MADDOX FREE MOVE WITH GLUCOSAMINE, CHONDROITIN, VITAMIN C, GINKGO BILOBA & TYPE II HYDROLYSED COLLAGEN + D3 30 TABLETS
Price:

285EGP
Ex Tax: 285EGP
Example
Returns
You can return the product within 14 days of purchase.
Returns
You can return the product within 14 days of purchase. MADDOX FREE MOVE WITH GLUCOSAMINE, CHONDROITIN, VITAMIN C, GINKGO BILOBA & TYPE II HYDROLYSED COLLAGEN + D3 30 TABLETS
Freemove
Maddox Pharma Swiss has developed a special formula that helps the body to move freely with no aches or pain.
Maddox Freemove Tablets is an advanced combination of Glucosamine, Chondroitin, Collagen, and essential key nutritional co-factors.
PRODUCT DESCRIPTION:
Reduce Joint pain
Glucosamine and chondroitin are natural compounds found in healthy cartilage, the tissue that cushions the ends of bones within the joints. In osteoporosis, the surface layer of cartilage between the bones of a joint wears down. This allows the bones to rub together, which can cause pain and swelling and make it difficult to move the joint. Glucosamine and chondroitin have anti-inflammatory properties, help maintain cartilage structure, and reduce joint pain.
Ginkgo Biloba provides relief to painful inflammation common to arthritis sufferers.

Support the joints
Type II collagen is the main component of cartilage in the body. Type II collagen is what gives cartilage its tensile strength and elasticity, thereby enabling it to support the joints.

Maintenance of bones and muscle function
Vitamin D contributes to the maintenance of normal bones and muscle function.
Vitamin C contributes to the normal collagen formation, therefore, to the normal function of bones and cartilage.
Copper contributes to the maintenance of normal connective tissue and Manganese to its normal formation.
INGREDIENTS: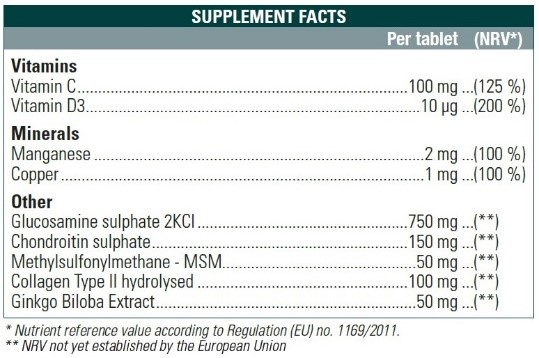 Ingredient:
45,3% glucosamine sulphate 2KCl (crustaceans); 9,1% bovine chondroitin sulphate; bulking agent: cellulose; 6,1% chicken hydrolysed collagen type II; L-ascorbic acid (vitamin C); coating agents: (hydroxypropyl methyl cellulose, hydroxypropyl cellulose, talc, medium chain triglycerides, colour: titanium dio-xide); 3,02% Ginkgo biloba extract (50:1); 3,02% methylsulfonylmethane (MSM); bulking agent: hydroxypropyl cellulose; anti-caking agent: magnesium salts of fatty acids; manganese bisglycinate; copper bisglycinate; humectant: glycerol; cholecalciferol (Vitamin D3).
DIRECTION OF USE:
Tablet to be swallowed with sufficient liquid.
Gluten-free
Lactose-free
Do not exceed the stated recommended daily dose. Store out of the reach of young children.
This product is not intended to diagnose, treat or prevent diseases and is not a substitute for a balanced diet and a healthy way of living.

Pack size:
30 Tablets
Write a review
Your Name:
Your Review:
Note: HTML is not translated!
Rating:
Bad
Good
Enter the code in the box below: