Regaine 2 % Topical Solution For Men & Women ( Minoxidil ) 60 mL
Price:

177EGP
Ex Tax: 177EGP
Example
Returns
You can return the product within 14 days of purchase.
Returns
You can return the product within 14 days of purchase. Regaine 2 % Topical Solution For Men & Women ( Minoxidil ) 60 mL
Overview
INTRODUCTION
Regaine 2% Solution belongs to a class of drugs known as vasodilators. It is used to promote hair growth after hereditary hair loss (male pattern baldness). It is not used for sudden, patchy or unexplained hair loss.
Regaine 2% Solution should only be applied directly to the scalp area in the amount, and in the way, specified on the label or by your doctor. Clean and dry your scalp before using it. It may take several months before you notice any hair growth and the first growth may be soft, colourless and barely visible. Using more than recommended will not speed up hair growth and may cause dangerous side effects. This medication must be used continuously to maintain hair growth. If your condition does not improve or worsens after using it for 4 to 6 months, tell your doctor.
Regaine 2% Solution is generally safe and suitable for most people but may have some potential side effects. The most common are itching or irritation of the scalp and unwanted hair growth in other places (not your scalp). It may also make you feel unwell and change the color and texture of your hair. If this happens, inform your doctor. If this medicine gets into the bloodstream it can cause side effects related to low blood pressure such as chest pain, rapid heartbeat and dizziness, swollen hands and feet. This should not happen if you use it correctly and avoid contact with broken skin. If you get it in your eyes, mouth or broken skin, rinse thoroughly with plenty of water. Talk to your doctor if you are bothered by side effects or they do not go away.
Regaine 2% Solution should not normally be used by people under the age of 18 or over 65. It may not be appropriate if your hair loss is due to medications (such as chemotherapy) or any nutritional deficiency. You should also not use this medicine if you have high blood pressure or are using other creams or lotions to treat other scalp conditions. Talk to your doctor if you have heart disease or blood circulation problems.
USES OF REGAINE SOLUTION
Hair loss
SIDE EFFECTS OF REGAINE SOLUTION
Common
Excessive hair growth on face
Rash
Edema (swelling)
Skin irritation
HOW TO COPE WITH SIDE EFFECTS?
The occurrence of side effects varies from person to person. The following are a few ways of dealing with some of the common side effects. However, consult your doctor if these persist.
Coping with Excessive hair growth on face
Speak to your doctor as they may be able to help you by reducing your dose or by prescribing an alternate medicine. If you are very bothered by this side effect, do these at home to remove or lighten the hair such as shaving, waxing, plucking, using hair removal creams or bleaching.
Coping with Rash and Skin irritation
There are many treatments for a wide range of skin problems. Avoid hot showers or baths because hot water can irritate the skin. Make sure to pat dry your skin after a bath or shower. Do not rub or scratch the affected area. Leave the skin exposed to the air as much as possible. Do not use perfumed soaps or deodorants. Water containing chlorine can make most skin problems worse, so avoid swimming. Avoid spicy foods, alcohol, tobacco smoke and caffeine as it may also make itching worse. Avoid excessive sun exposure. Always use sunscreen and protective clothing when outdoors. Moisturizers can be used regularly to soothe and hydrate the affected area. If it does not get better within a week, speak to a pharmacist or doctor.
HOW TO USE REGAINE SOLUTION
Use this medicine in the dose and duration as advised by your doctor. Check the label for directions before use.
HOW REGAINE SOLUTION WORKS
Regaine 2% Solution is a potassium channel opener. Its vasodilation action expands the blood vessels. Therefore, when it is applied to the scalp, it helps to increase the blood flow. This increased blood flow provides more nutrition and oxygen to the hair follicles, which prevents hair cell death and also enhances new hair growth. This is how it works to treat your alopecia (hair loss).
SAFETY ADVICE
warnings
Alcohol
No interaction found/established
warnings
Pregnancy
CONSULT YOUR DOCTOR
Regaine 2% Solution may be unsafe to use during pregnancy. Although there are limited studies in humans, animal studies have shown harmful effects on the developing baby. Your doctor will weigh the benefits and any potential risks before prescribing it to you. Please consult your doctor.
warnings
Breastfeeding
SAFE IF PRESCRIBED
Regaine 2% Solution is safe to use during breastfeeding. Human studies suggest that the drug does not pass into the breastmilk in a significant amount and is not harmful to the baby.
warnings
Driving
No interaction found/established
warnings
Kidney
No interaction found/established
warnings
Liver
No interaction found/established
WHAT IF YOU FORGET TO TAKE REGAINE SOLUTION?
If you miss a dose of Regaine 2% Solution, apply it as soon as possible. However, if it is almost time for your next dose, skip the missed dose and go back to your regular schedule. Do not double the dose.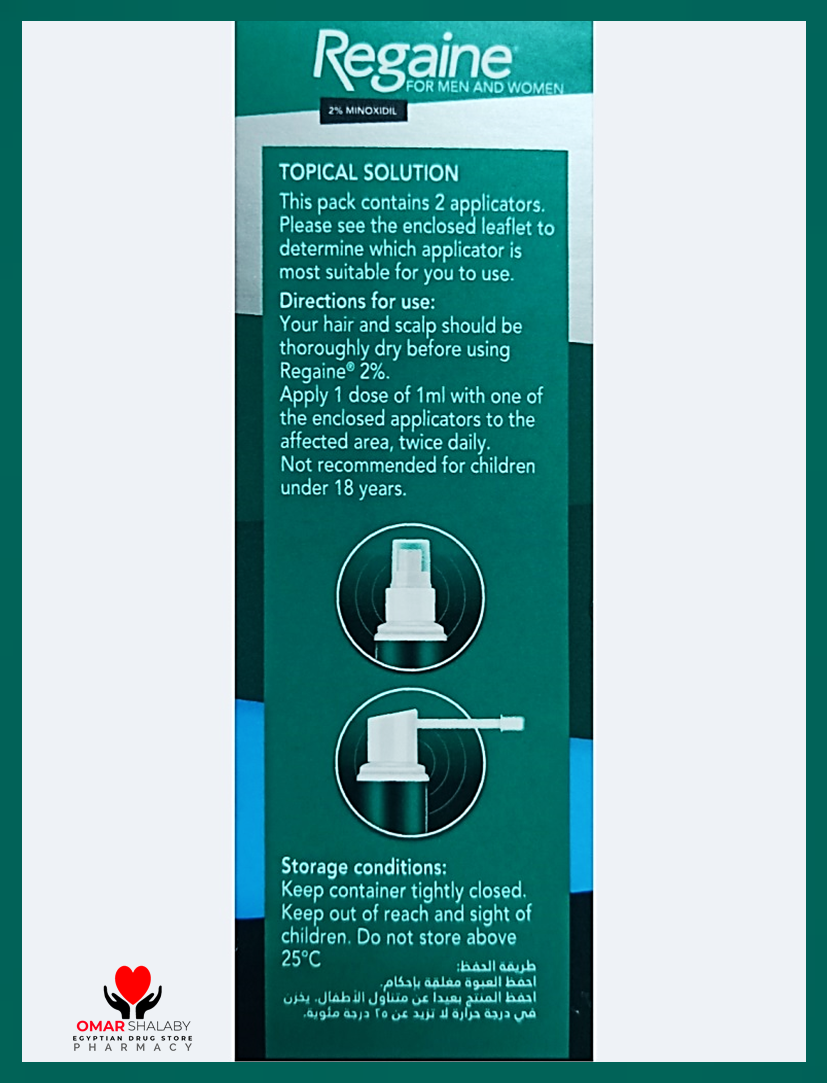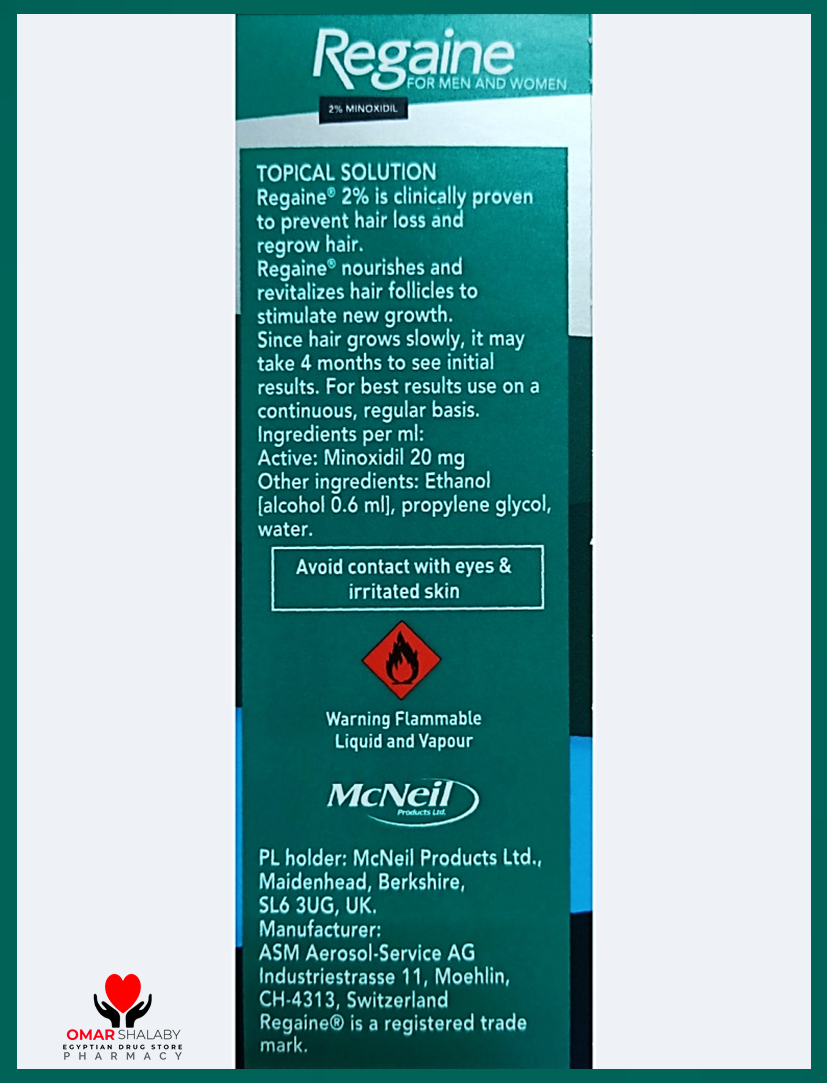 Write a review
Your Name:
Your Review:
Note: HTML is not translated!
Rating:
Bad
Good
Enter the code in the box below: