GINSANA 100 mg ( Ginseng ) 30 soft gelatin capsules
Brand:
EIPICO
Product Code:
12093
Availability:
In Stock
Price:

12EGP
Ex Tax: 12EGP
Example
Returns
You can return the product within 14 days of purchase.
Returns
You can return the product within 14 days of purchase. GINSANA 100 mg ( Ginseng ) 30 soft gelatin capsules
Composition
One GINSANA capsule contains:
Concentrated, standardized Ginseng extract G115 100 mg (made from roots of best quality of genuine Panax Ginseng C. A. Meyer)
Preservatives:
Ethylvanillin and other inactive ingredients.
Therapeutic Indications
GINSANA serves for the improvement of the physical and mental efficiency during states of weakness and exhaustion, tiredness and loss of concentration.
Furthermore, GINSANA may be used during convalescence.
Dosage and Administration
Normally 2 capsules at breakfast or one each with breakfast or lunch.
The capsules are best taken with some liquid.
The doses stated are for adults.
Adolescents from the age of 12 should eventually have the doses stated reduced according to their age.
It is recommended to take GINSANA as a course of treatment for a period of 4 weaks. Please consult your physician if you extend the duration of treatment.
Observe the dosage indicated on the leaflet or prescribed by your physician.
If you think the effect of the drug is too weak or too strong, consult your physician or pharmacist .
General remarks:
GINSANA Capsules are sugarless and therefore suitable for diabetics.
Warnings and Precautions
Do not take GINSANA if you are hypertensive or allergic to any of the ingredients (see Composition).
Inform your physician or pharmacist if you:
Suffer from other diseases.
Have any allergies.
Take other (also self-purchased) drugs especially for the above mentioned diseases.
Pregnancy and Lactation
In general, GINSANA can be taken during pregnancy or during lactation.
However, any medicine taken during pregnancy or during the period of lactation should only be taken after consultation with your physician or pharmacist.
Undesirable Effects
Up to now, no serious side effects related to GINSANA have been reported if taken as prescribed.
Pharmacological Properties
GINSANA is a herbal product. It contains the extract G115 from roots of the genuine Ginseng (Panax Ginseng C. A. Meyer which is produced according to a standardized method and which is adjusted to the total content of ginsenosides.
Storage
Keep in a dry place, at room temperature (15°C - 25°C), out of the reach of children.
The drug may be used only up to the expiry date indicated on the container with "EXP.".
Packaging
GINSANA Capsules: Box containing 30 or 100 capsules.
GINSANA is available in pharmacies without prescription.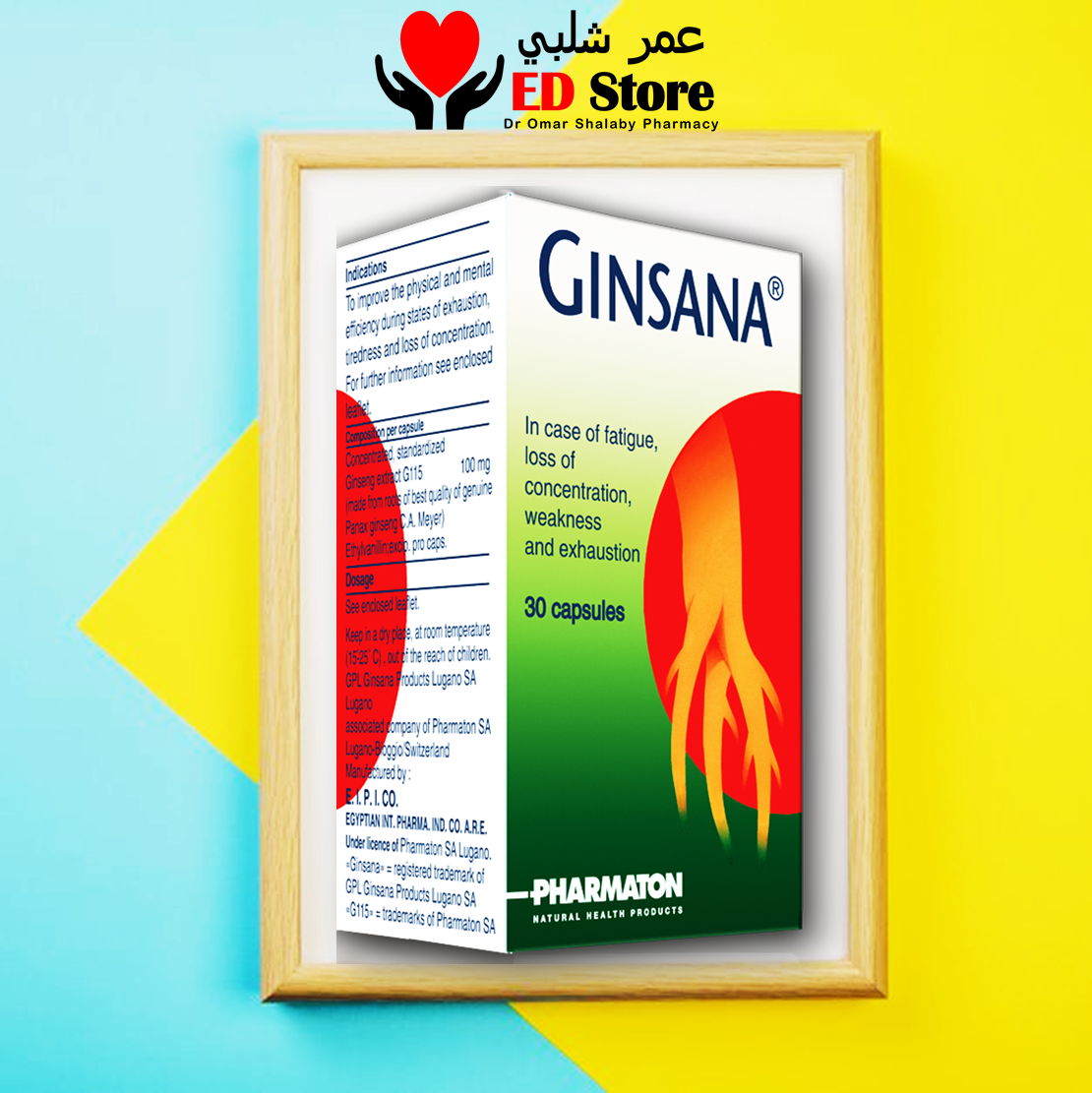 Write a review
Your Name:
Your Review:
Note: HTML is not translated!
Rating:
Bad
Good
Enter the code in the box below: